April 17th 2015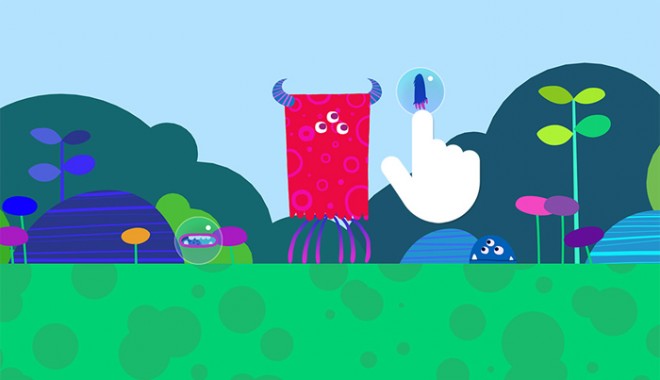 Very happy to announce our new app Monster Mingle, out on 23rd of April.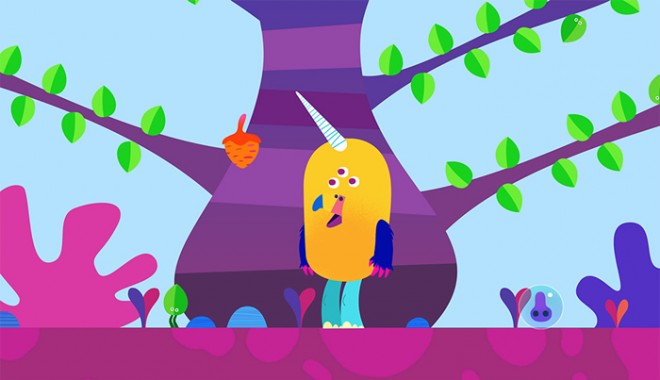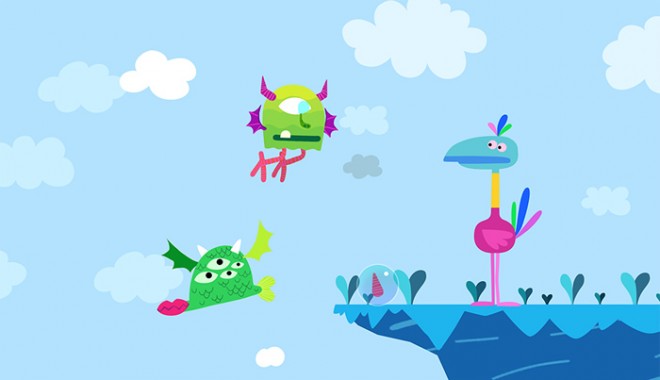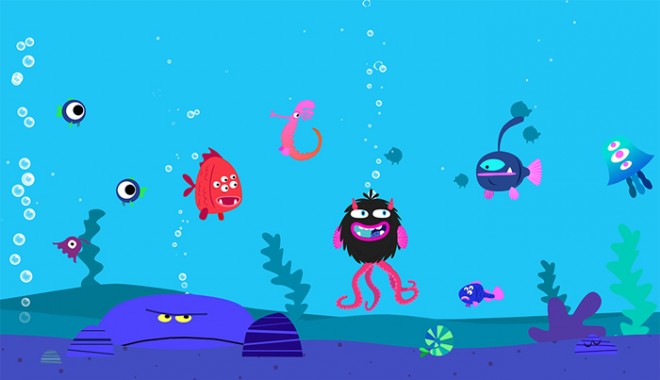 ---
August 5th 2014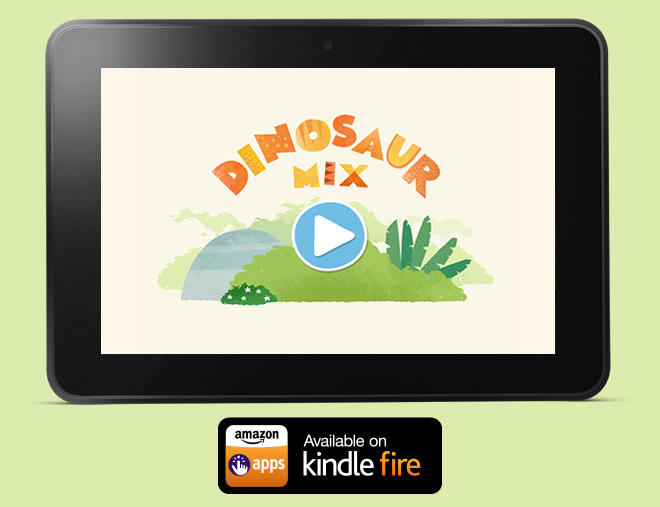 Good news, Dinosaur Mix is now available for Kindle Fire devices. Get it now.
---
July 18th 2014

Happy to see the App Store update this week have a collection of dinosaur apps & games for kids, with Dinosaur Mix being included. Thank you Apple.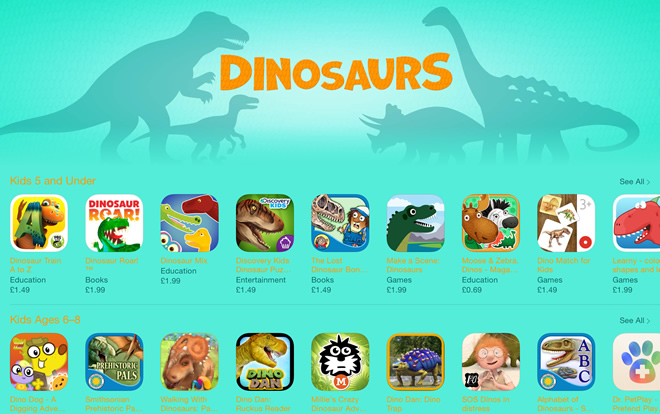 ---
July 11th 2014
It's lovely to see Dinosaur Mix out in the wild, being enjoyed by children around the world…
Some pictures…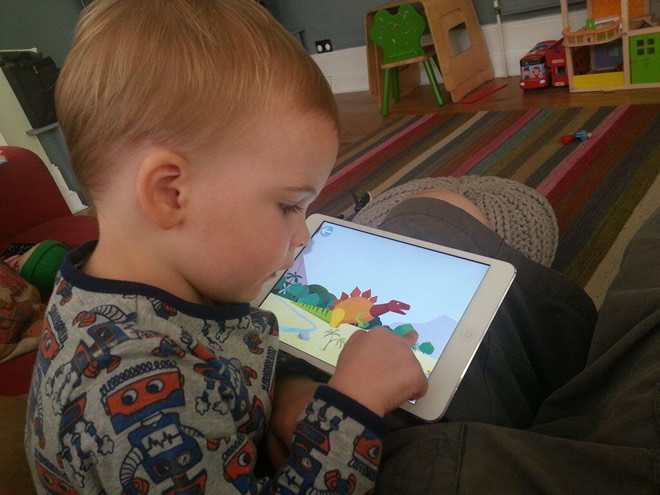 (thanks @KommanderKlobb)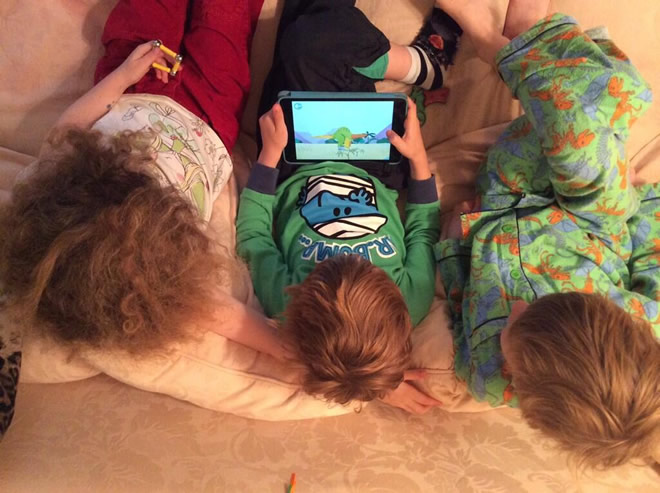 (thanks @stuartdredge)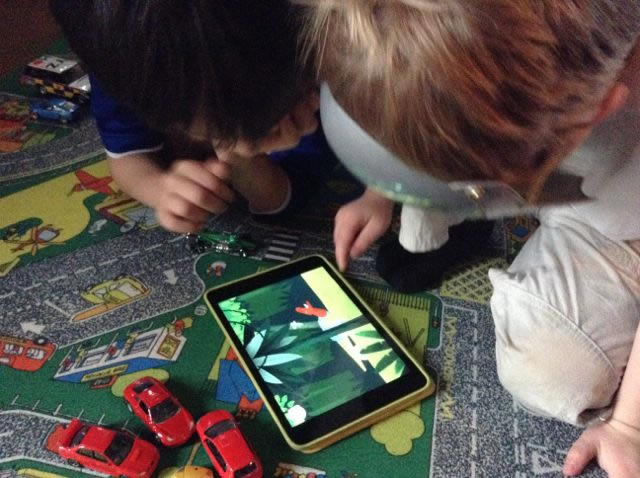 (thanks Ed of @nosycrowapps)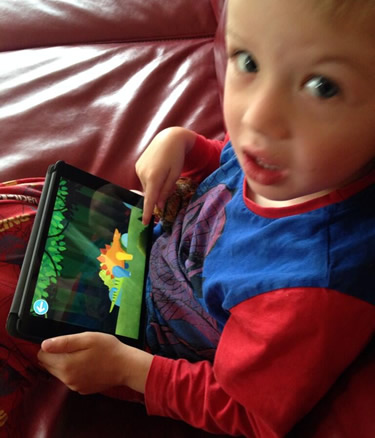 (thanks @willsh)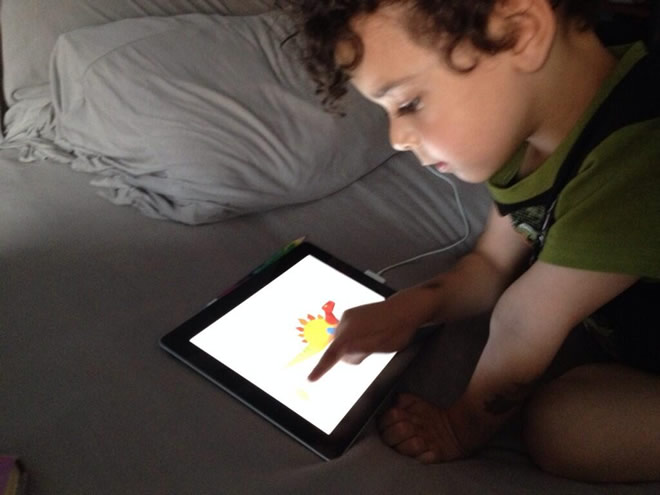 (thanks @shiffman)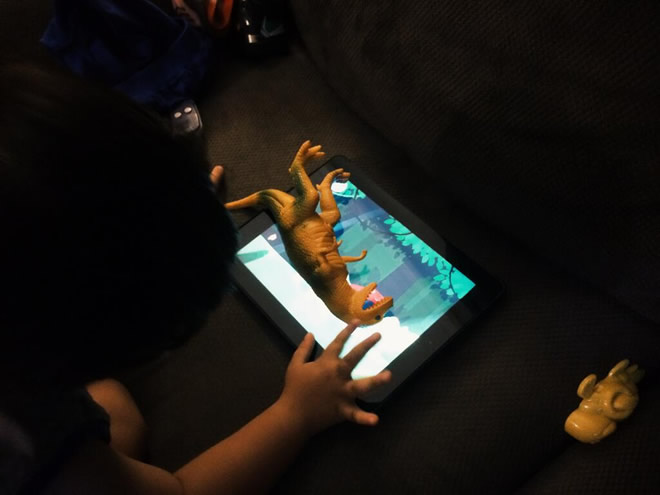 (thanks @armillio)
Do please keep sending them in.
---
July 10th 2014
Just a quick update on Dinosaur Mix, two weeks after launch.
The app icon was featured in many places (something like 36 countries).  It went reasonably high in the kids chart, but its hard to topple the might of the well known kids brands.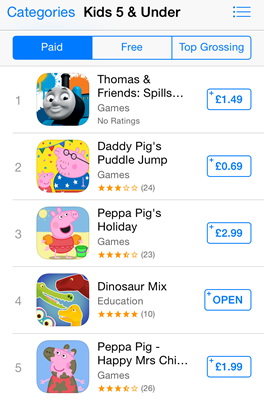 There have been 16 reviews of the app, 15 of those were 5 star.

Looking at the anonymous usage analytics, I can see that the app is being played with multiple times a day…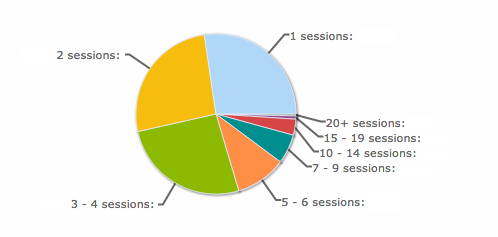 With a good average session time of 3-10 minutes (2nd by 10-30 minutes) and an amazing 5% of users playing with the game for over 30 minutes!

I am already working on an update that looks at the pacing of the gameplay, adding more variety of interactives in the world to play with. Stay tuned for more.
---
June 26th 2014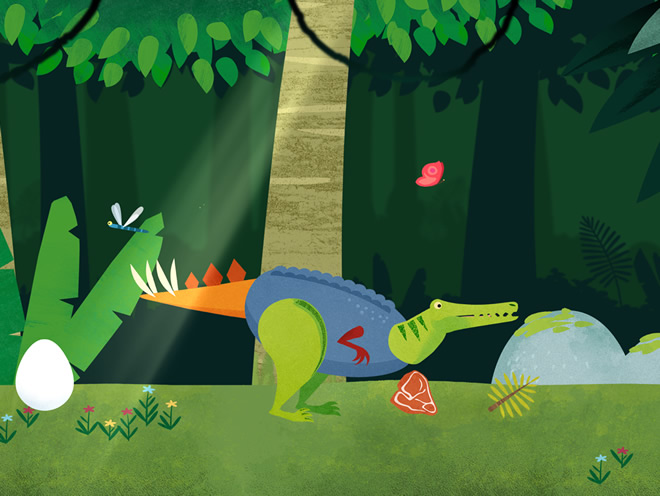 Announcing our newest app Dinosaur Mix, out 26th June for iPhone, iPod Touch and iPad.
Create your own dinosaur! Mix and swap body parts then see it come to life. Explore the world, let out a roar and find eggs to change your dinosaur's appearance.
Mix up the body, head, tail and legs from a Tyrannosaurus, Spinosaurus, Triceratops, Stegosaurus and Brachiosaurus into many combinations.
Features:
– Find the right food to feed your dinosaur
– Stomp around the forest or volcanic plains
– Play with the wildlife and scenery
– Child friendly dinosaur noises
– No goals or objectives, just a free play sandbox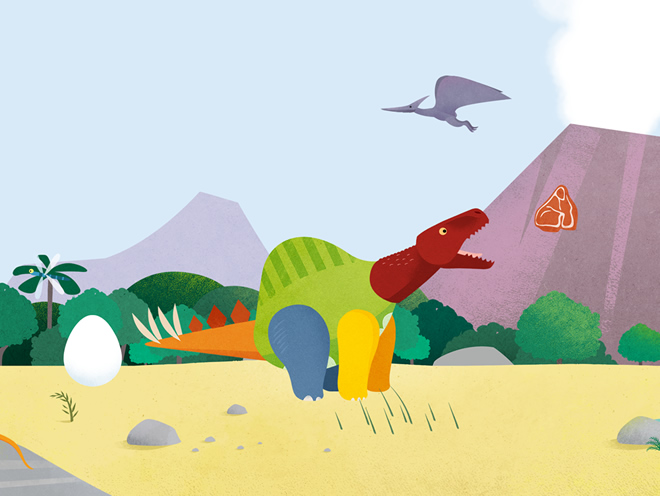 ---
December 18th 2013
Just enough time left to wish you all a Merry Christmas and to thank you for all your support this year.
This year Little Digits has received a couple of updates, been featured in the iPad TV ad, and featured as Editors' Choice, 10 Great Kids Apps and the new Kids Category.
Along with the apps, I've also been creating interactive installations for children, like Woodland Wiggle for the Royal London Hospital.
I've started uploading some behind the scenes pictures and videos to Instagram, so do follow us here: instagram.com/cowlyowl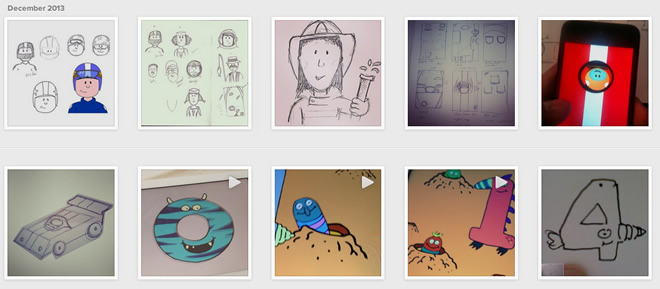 2013 may not have brought with it new Cowly Owl apps, but next year certainly will.  We are hard at work on the new app, due for release in Q1 2014. Sign up to the mailing list above to be notified upon launch.  I can't show you very much, but here is a sneak preview image…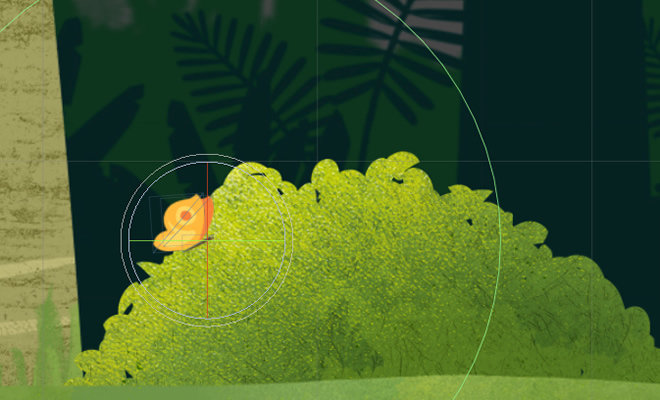 Have a lovely Christmas and see you in 2014!
Chris O'Shea, Cowly Owl
---
October 1st 2013
Combining physical and digital for make believe play, our Makego toy app + a Lego case for your device is an ideal combination. However there are a few options out there, so this post aims to help you decide which one is best for you.
Belkin
Released in 2013, Belkin is the officially licensed Lego case. Only available for iPhone 5/5S (update, now available for iPad mini too).
Whilst other products shown below aren't officially licensed or endorsed by Lego, they do provide older device compatibility…
SmallWorks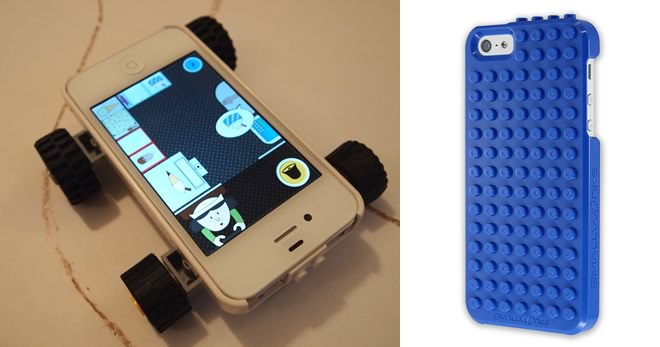 BrickCase by SmallWorks is available for iPhone 5/5S, 4/4S and iPod Touch. There are brick mounts on the rear side of the case and on the top edge.
TinkerBrick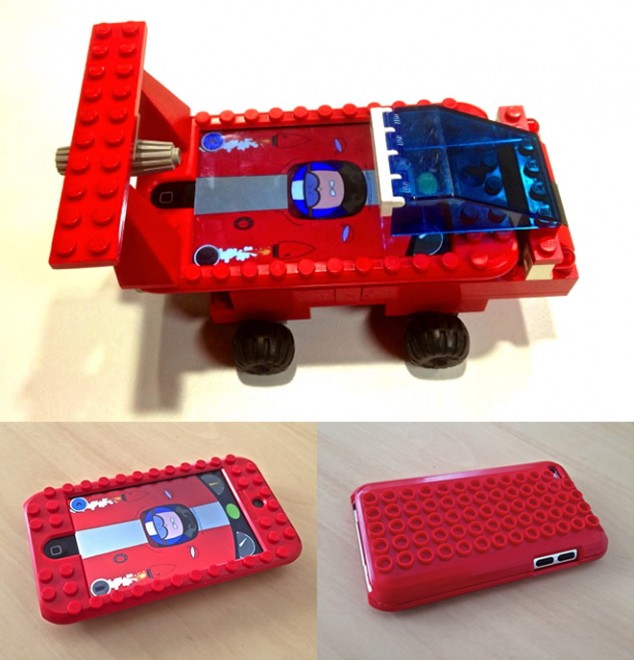 The cases by TinkerBrick are available for iPhone 5/5S, 4/4S and iPod Touch. There are brick mounts on the rear side of the case, none of the side edges but some on the front face of the case.
Want some building ideas? Take a look at this Flickr Group.
---
September 18th 2013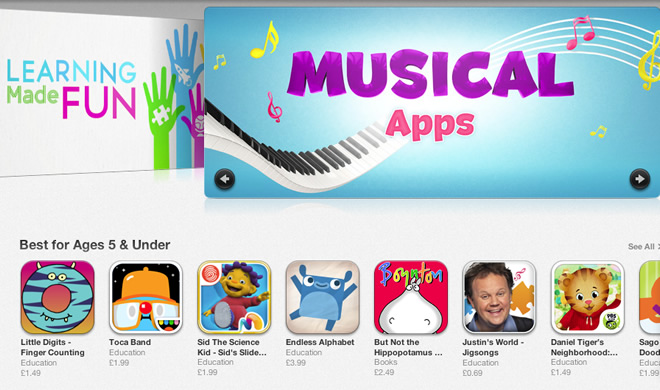 In time for the release of iOS 7 today, Little Digits has been updated with minor bug fixes to make sure it is compatible, so please update to version 1.04 in the App Store.
We are happy that Little Digits has been featured by Apple in the new Kids Category, a new featured category on the App Store for apps aimed at children, with tighter rules that help keep kids safe.
Happy Wednesday everyone.
---
August 1st 2013
Very happy to see that Little Digits has been included by Apple in the 10 Great Kids Apps feature this week.
Last week it was also included in the Entertain your Kids – Apps for the Summer Holidays feature. Thank you Apple!

---
May 7th 2013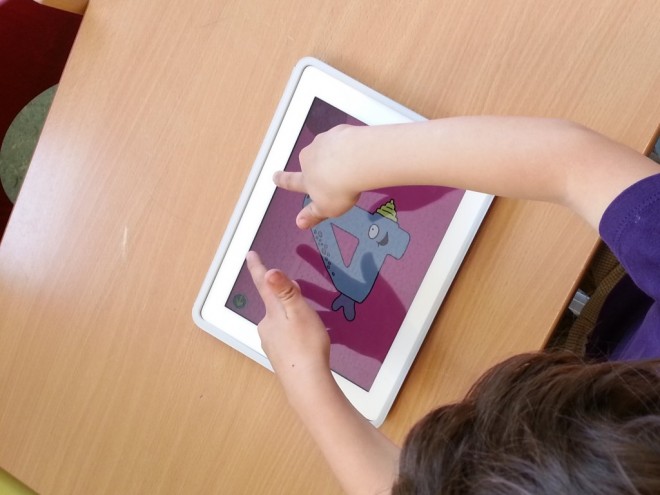 I can see from the sales numbers that Little Digits is being used in schools, quite a few in fact, as they can download the app via the volume purchase program at a discount. On average a school buys 20 copies of the app.
However as a developer you have no idea which schools are using your app, so I was happy when teacher Sacha (@onlinesacha) of new school Montessorischool de Amstel sent me the picture above.
If you are an educator and use Little Digits in your classroom, please do get in touch.
---
April 22nd 2013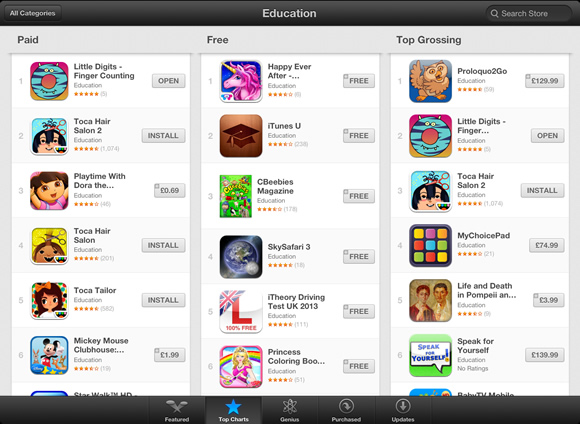 As of writing this post, Little Digits is currently number 1 in the education chart in the UK (shown above).
It is top 10 in 17 countries and top 20 in 32 countries (in education). Hurray.
---
April 18th 2013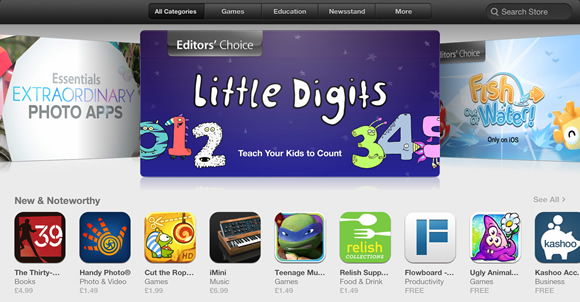 I just loaded the App Store like I do every Thursday to see what has been featured, and Little Digits was the first thing I saw. Editors' Choice!! I am jumping for joy, thank you people at Apple.
---
April 17th 2013
Hello, I am Chris O'Shea, founder and single employee of Cowly Owl. I wanted to write this blog post to let you know the story of how the company came to be and some decisions made along the way.
Introduction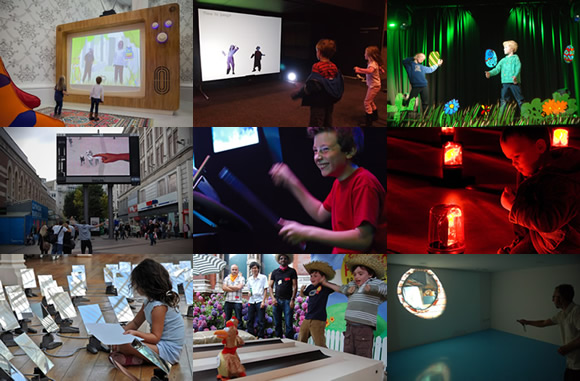 I am an artist/designer/inventor of playful installations, based in London.  I wrote this on my site:
"I use technology to make the unimaginable come to life. Inventing new approaches that explore play, human behaviour and engagement through interaction design and the visual arts. My mission is to create installations, digital toys, play spaces and experiences for everyone, that take us out of the everyday and fill us with joy and wonder.
My works aim to:
– be immersive and participatory
– stimulate curiosity, allow us to make believe, explore and discover our imaginations
– encourage creativity and our own confidence in self expression
– let us collaborate with others and to become a performer
– allow us think differently about ourselves and others, challenging our existing perspectives
– get us moving our bodies in unusual ways
– make us smile"
I realised that whilst I really enjoy creating installation work in spaces, I also wanted to put my ideas out to a wider audience in the form of products that you could download at home.
Getting started
In October 2010 I relaunched my personal portfolio website, with a section for digital toys, saying "Taking the same values and ideas I have for playful experiences, and making them for a distributed audience. Aimed at mobile and home entertainment systems".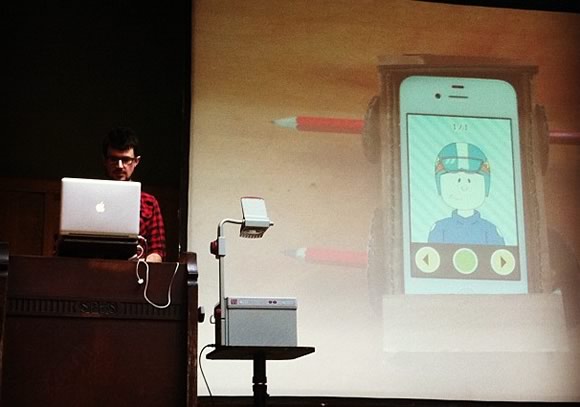 In 2011 after finishing some big screen games for London 2012, I started working on the toy car app Makego.  I showed the work for the first time at the Playful conference in October 2011, the app was released in February 2012 (more on that another time).
The name
At the end of March 2012, after the launch of Makego, I was at a Smartphone and Tablet Conference organised by TIGA (independent games developers association). On this day I felt motivated that this was what I wanted to do for a living.  I decided that to do this long term, I needed to build up a brand that children and parents could remember, rather than publishing apps under my own name.
The next day when discussing this with my wife, she came up with the name Cowly Owl. "vachement chouette" is a French saying meaning something is "really cool" or "really nice", a little bit old fashioned, perhaps mostly used by children. Vache also means cow and chouette means owl, so translated vachement chouette is a cow-like owl, in this case Cowly Owl.
I announced the startup via Twitter on 13th April and put up a holding page, then started working on Little Digits.
Logo development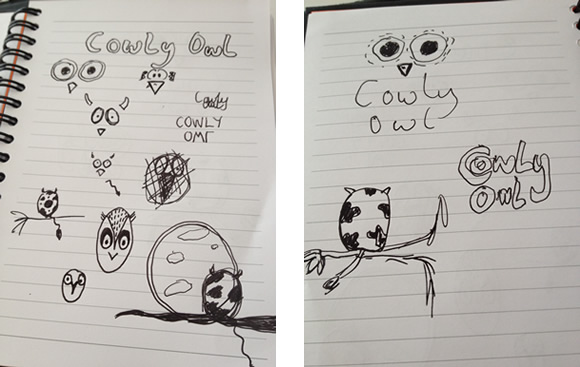 I had two main ideas for the logo. The first one to have really simple big eyes and a beak facing you.  The second having a cow-like owl, an owl with cow spots and cow tail, sat in a tree facing towards the moon.  In the end I decided to go with the former, as it felt friendlier, more approachable.

After playing with colours to find those that I thought would fit the brand, I created various iterations of the logo, changing minor details such as eye positioning, beak size, trying to avoid the crazy cross-eyed owl look to find a balance of a young owl but not a baby.  The rough edges to the shapes give them a papercraft cut out feeling, as well as the faint paper texture on the pink and blue parts.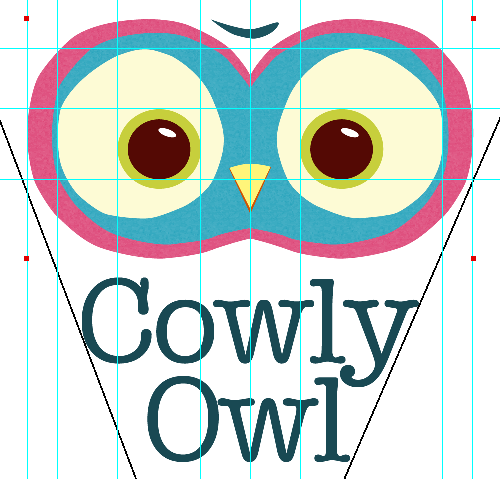 I wanted to the text to look like it was from a typewriter, giving it an old book feel, and offsetting a more serious tone against the cuter owl. The placement and size of the text used in this way to make up the chest of the owl.
Animated Identity

I needed an animated ident that would play on promo videos and whenever someone opened an app.  My idea was to have an owl that was in hibernation, would be surprised & woken up by your presence and then read the letters as they appeared beneath. I made a really rough version in Flash to use as a starting point.
Ben Hanbury, designer and animator created the above animation in After Effects. We went through 5 or so iterations to get to the final version. He had the lovely idea to make the logo shape wobble, making it look like a paper stop motion animation.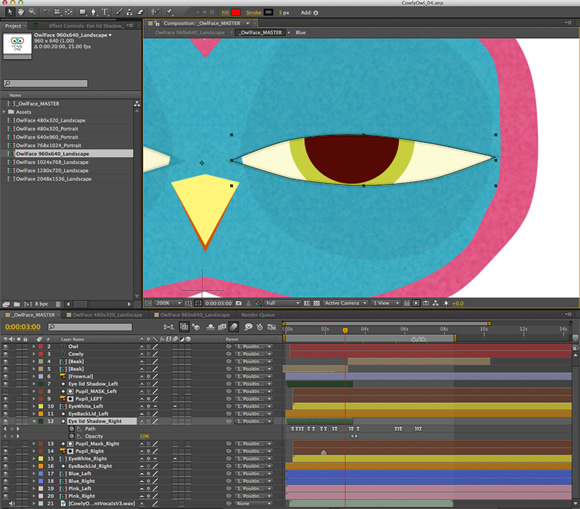 The music was composed by PitStop Productions who regularly do sound work on games. I asked them to make it happy, magical, a classic Disney feel, rather than some hyperactive kids TV shows that you get today.  I wanted it to have an English, classic, countryside, curiosity, story telling feel. A 4 year old girl provided her voice for the ident (and Little Digits).
I'm really happy with how it turned out, so a big thank you to Ben and Pitstop.
What now?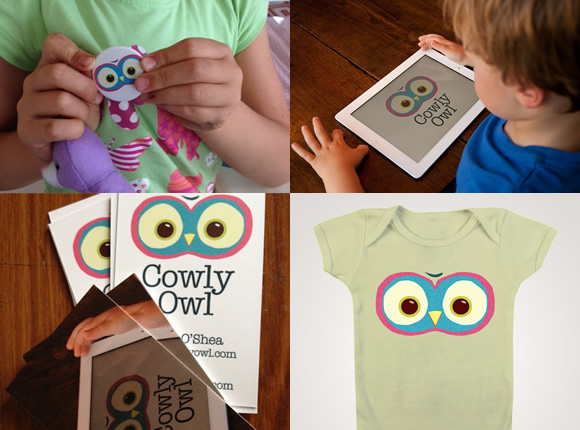 I am now working on the next app, hopefully due out in the summer.
To keep up with developments, do join the mailing list above or Like us on Facebook.
---
April 11th 2013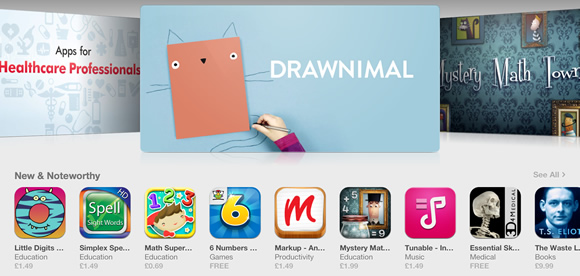 Very happy that Little Digits has been featured by Apple in New & Noteworthy this week, our first front page feature! If you don't already own it, please go buy it and help me climb the charts.
---
April 9th 2013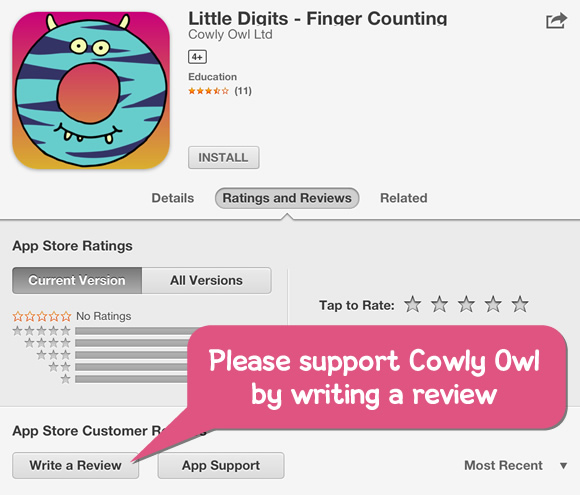 Little Digits has had a bit of a tough time with user reviews on the App Store…
The Good
"This app ingeniously prompts kids to experience arithmetic with their fingers — I can't think of another app which get kids using their brain, and all of their fingers, at the same time. More generally, the app is elegant and RESPECTFUL: one thing that this developer gets right, which seems astonishingly RARE, is that there are no shoddy advertisements, or trapdoor buttons for in-app purchases, that ruin the experience for the little ones. Ultimately it's educational — it teaches adding and subtracting in a really engaging way!"
"Lots of learning opportunities with this App in number sense, basic math skills and number vocabulary through the use of 3 senses, touch, hearing and speech. The recording of your voice saying the numbers is a terrific. The App will hold the interest of a child through the basics of learning the numbers through learning and review of basic addition and subtraction facts 0-10. This would be a great App for the older developmentally disabled."
"If we touch the screen with three fingers, we see three on the screen. It's a simple and engaging technique that works well with kids. I'm confused by the poor reviews for an app that carries creative, quality production. I hope to see more from this developer."
The Bad
"Stops at four. I read all the negative reviews and should've paid attention. Now I am out 2 bucks. This app is so disappointing. Stops after 4. Deleted!"
"App crashes after counting to 4. Got this app for my kid after reading rave reviews online. But it crashes all the time. If the developer is reading this, it's only fair I be refunded!"
"Only counts to 5 ! Not very good game,should have been FREE, Save your money."
"I just loaded this on my iPad mini and it simply doesn't work past three digits. First app that I regret buying."
"This does not work. Sometimes it will count up to 5 if I am lucky, but I can never get it to count any further, on my iPad 3."
Why the bad reviews?
On the iPad, by default multitasking gestures are turned on. This means if you put 4 fingers down and move at all, you either close the app, switch to another or the task bar. As this app uses up to 10 fingers, you need to turn off multitasking gestures.
This warning was written as part of the app store description text and on the about screen within the app. This wasn't clear enough, so update 1.03 just released has a popup alert (in 20 languages) at the start and every time you trigger the gesture, to remind you to turn it off. Don't worry this popup is unobtrusive and goes away on its own after a few seconds. Hopefully this will help solve the bad reviews.
Sadly you can't reply directly to those people that have posted their anger in a review instead of emailing Cowly Owl for support. Those people that have emailed with questions have always gone away happy that the app works as expected.
How to get your users to rate your app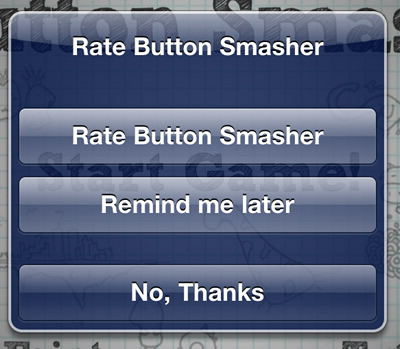 This is the method that most apps use, a popup that asks you to rate the app. This will often come once you've been using the app for a good period of time, or reached a far point in the game, so that you are more likely to write a good review.
Not only are these popups annoying, but in apps aimed at children they are very problematic. When a 4 year old is faced with the above, what do they do? Go and ask for help or press a random button, making them leave the app and go back to the app store. Also, you want the parent/carer/teacher to write a review, not a young child, so why bother them with this popup?
Why are reviews important?
Many people see an app icon, skim the first part of the description, flick through the screenshots and read the reviews from other people before deciding if they should buy the app. If there are bad reviews saying it doesn't work, they are less likely to buy the app.
What can you do?
Cowly Owl is an independent company made up of 1 person, Chris O'Shea.  Not backed by a large company, or funded by investors, the last app needs to be profitable to help pay for creating the next app.  It's not a goldmine, this industry is hard for the small guys (read "Can independent developers make money from children's apps?"), so I need all the help I can get to improve the income generated from these apps.
So if you already own a Cowly Owl app, and would like to see more released, please leave a positive review on the App Store.
If you have any questions or problems, please contact me via the support pages.
Many thanks!

---
April 5th 2013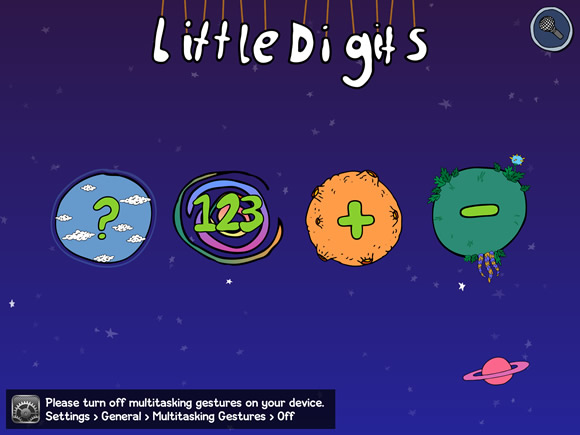 Little Digits has now updated to version 1.03. As an app that uses 10 fingers, you must turn off the multitasking gestures on your iPad, as 4 or more fingers will make the app close, switching you back to the home screen or another app.  This is a setting within iOS, beyond a developers control.
Although this instruction was within the app description & about screen, it wasn't clear enough. You now see the above message once when the app starts, and every time you trigger the multitasking gesture.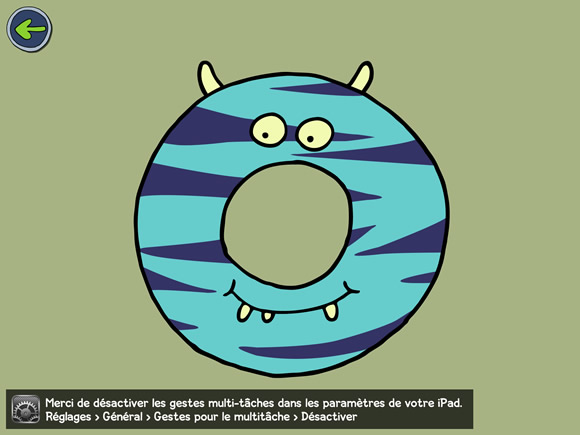 This instruction has also been translated into 20 languages, as well as the settings for the app, as shown below.
So please update your app and leave a positive review on the app store.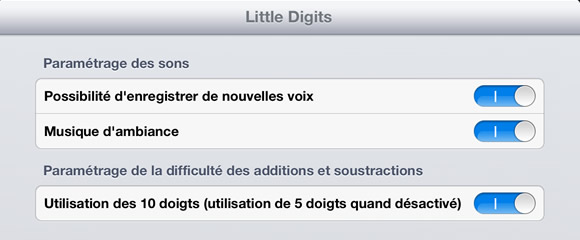 ---
March 13th 2013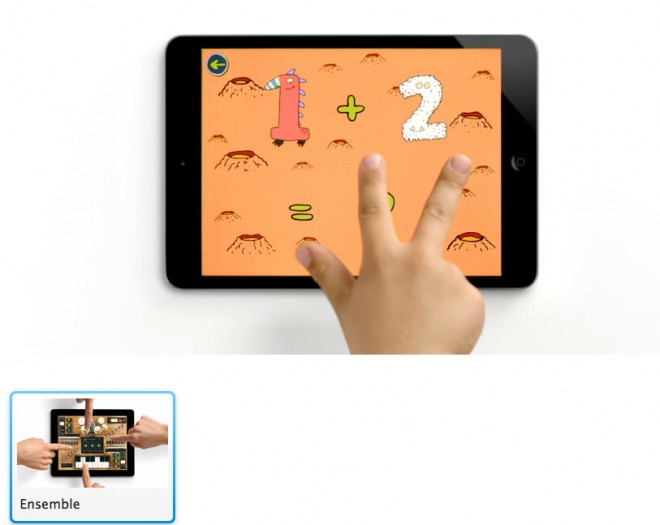 We are very happy that Apple have included Little Digits in the new iPad TV commercial, in France and Germany. Click the links to watch [Edit] The ad is no longer on the Apple site, someone has made a copy on YouTube though.
---
December 17th 2012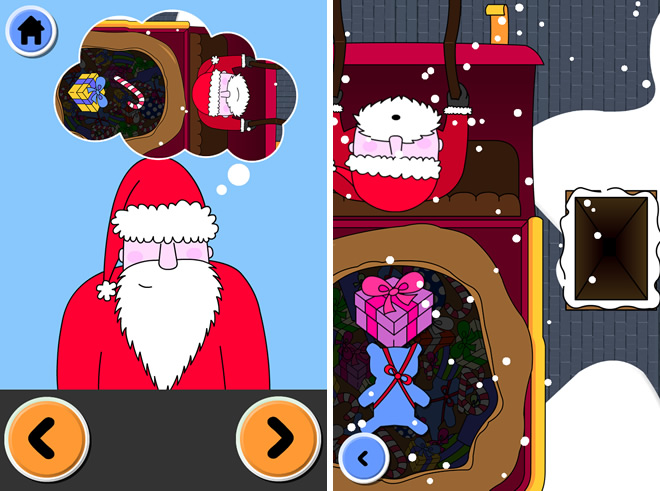 Our first app Makego has just been updated to 1.02
– Santa Claus vehicle, deliver presents to children down the chimney
– Improved vehicle select screen with preview of vehicle & swipe gesture
– Removed external social media links
– App now under the Cowly Owl brand
Download it now on the App Store. Merry Christmas everyone!
---
December 14th 2012

We are very happy indeed that Little Digits has been included in the App Store Best of 2012 feature in the United Kingdom & Ireland.
It is listed under Hidden Gems: "These fantastic apps are the outliers – they don't fit neatly into categories, but they impressed us by riding trends or forging new ones".
If you haven't already, please do buy the app & help us fund the next set of apps for kids in 2013.
itunes.com/AppStoreBestof2012 (opens iTunes/App Store)
---
December 6th 2012
Following on from this post, here are some more videos of people using the Little Digits app.
"ZX builds on her fascination with numbers with a cool little iPad app called Little Digits"

Mckade age 9 with autism using little digits app to help with double digit addition.

Video demonstration by "Apps for Children With Special Needs"

Demonstration of how you can record the voices in your own language…

---
November 2nd 2012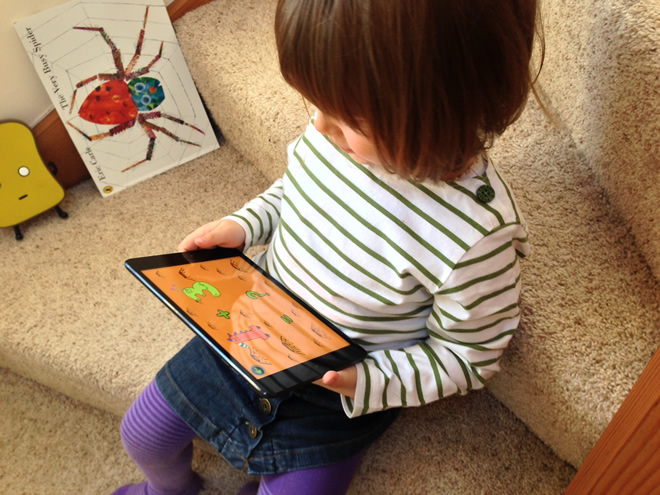 Happy to confirm that Little Digits works & looks great on the iPad mini. Photo above thanks to @mimeArtistLtd.
Photo below via @nardove.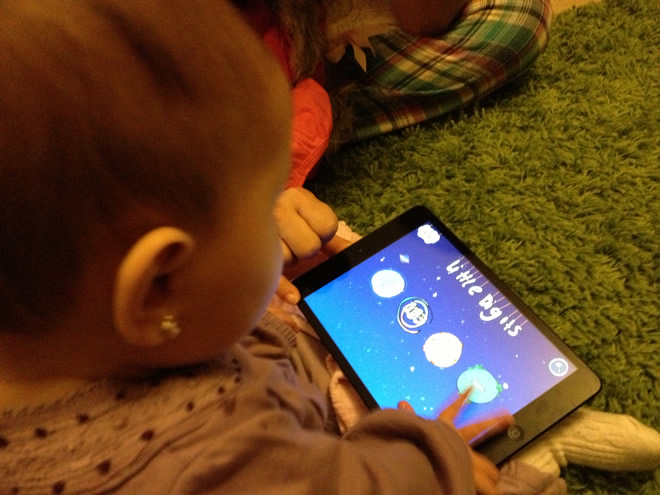 ---
October 1st 2012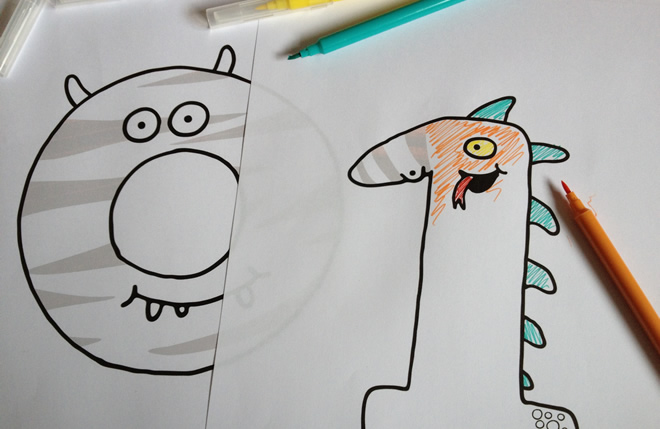 As a free gift back to our fans, you can now download & print a colouring book for Little Digits right here.
Please feel free to share any photos of your doodles & colouring on our Facebook page.
---
September 16th 2012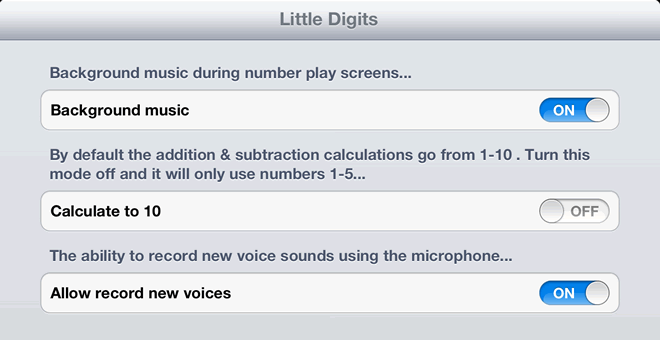 Little Digits has just been updated to version 1.02, adding some settings to the app…
– Background music can now be muted on play screens to help with concentration.
– Difficulty setting, you can now limit the answer for sums to 5 (the default is 1-10).
– Record lock, you can now record your own voices, then lock it so no changes can be made.
We need your reviews!
If you like Little Digits, please leave a review on the App Store.
Got a problem or suggestion?
Please visit our support page.
---
September 6th 2012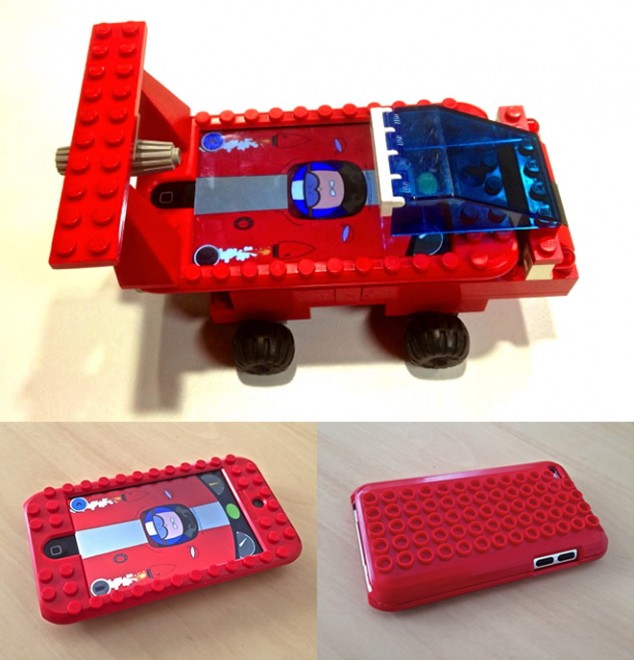 (image courtesy of Appcessories blog)
I had been playing with a prototype they sent to me, but now Tinkerbrick, a Lego brick compatible case for iPod Touch, has been officially released. You can get them on Amazon US.
As the Appcessories blog pointed out, it is the perfect accessory to our app Makego.
---
September 1st 2012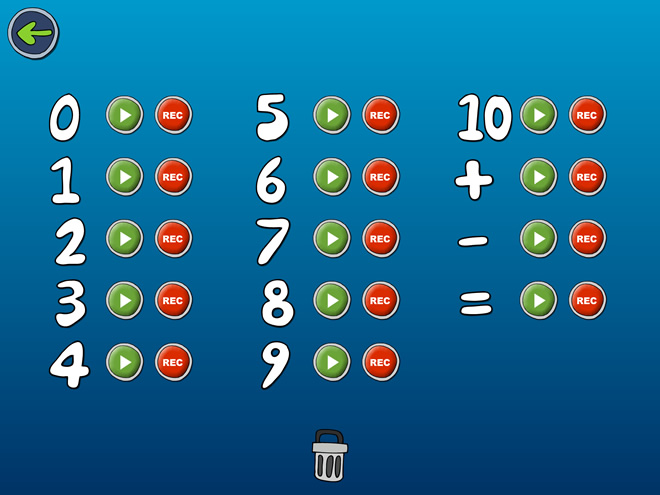 The 1.01 version of Little Digits has gone live. You can now record your own voice samples & in any language you wish.
Let us know what you think here.
---
July 19th 2012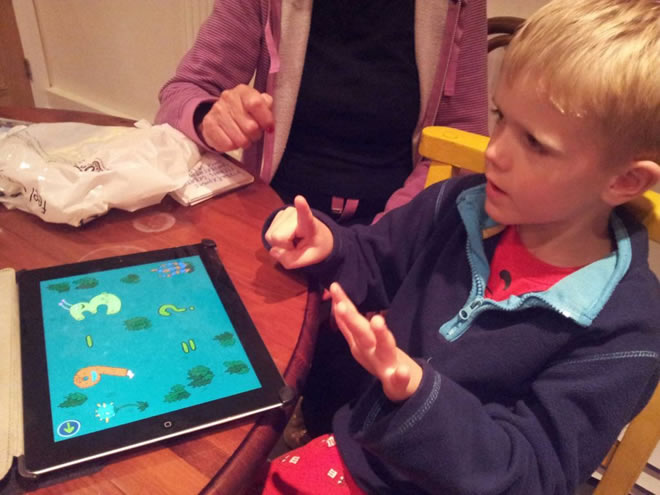 @dwstrang tweeted "My nephew Sam learning some maths using little digits" (see photo above)
@chrisdymond sent me a video of his boys playing with the app…

@cookwith5kids posted this video review from her kids…

Thanks everyone.
If you have any photos or videos of your children playing with Little Digits & would like to share, please contact us here.
---
July 12th 2012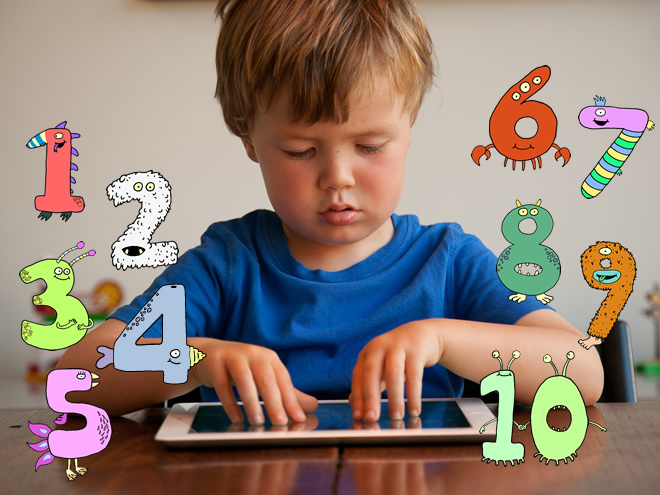 I'm very happy to announce the release of our latest app Little Digits.
Little Digits is a fun educational app that teaches children about numbers by putting a new spin on finger counting.
Using the iPad multi-touch screen, Little Digits displays number characters by detecting how many fingers you put down. Children can learn to associate the number on the screen with the number of fingers they place down, whilst enjoying the unique characters and animations of the Little Digits world.
There are also games that introduce small addition and subtraction calculations, where you can work out the answer using the same multi-touch finger detection.
This is an app that will grow with your child's numerical understanding. Not only can they discover numbers through initial independent play, you can also play collaboratively with your child, each putting fingers down to count and work out calculations together. Then when your child is ready, they can work out the answers for themselves, using their own little digits!
Watch the video & get the app here:
cowlyowl.com/little-digits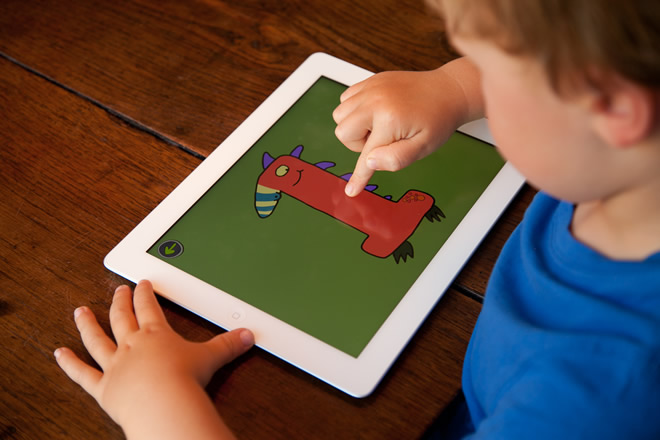 ---
April 2nd 2012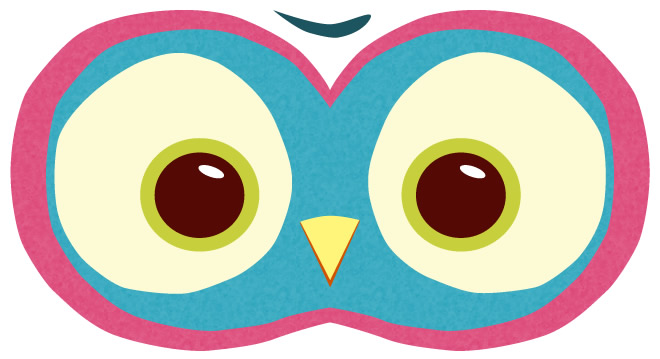 I'd like to introduce you to a new startup studio Cowly Owl. Based in London and founded by artist/designer/inventor Chris O'Shea.
Our first app Makego was published in February by Chris O'Shea, but will soon come under the Cowly Owl brand. A new app is on the way very shortly for iPad.
Exciting times ahead.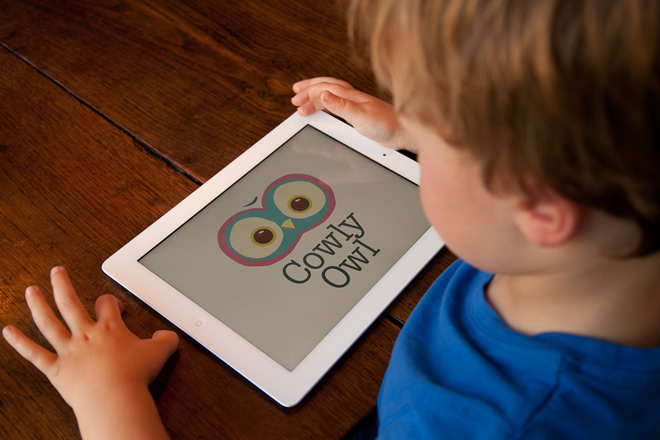 ---