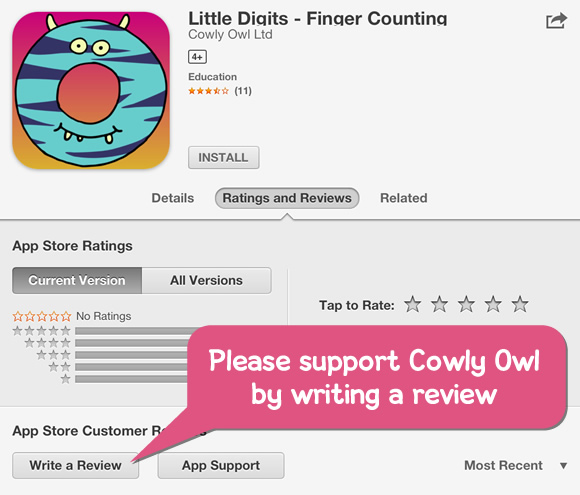 Little Digits has had a bit of a tough time with user reviews on the App Store...
The Good
"This app ingeniously prompts kids to experience arithmetic with their fingers -- I can't think of another app which get kids using their brain, and all of their fingers, at the same time. More generally, the app is elegant and RESPECTFUL: one thing that this developer gets right, which seems astonishingly RARE, is that there are no shoddy advertisements, or trapdoor buttons for in-app purchases, that ruin the experience for the little ones. Ultimately it's educational -- it teaches adding and subtracting in a really engaging way!"
"Lots of learning opportunities with this App in number sense, basic math skills and number vocabulary through the use of 3 senses, touch, hearing and speech. The recording of your voice saying the numbers is a terrific. The App will hold the interest of a child through the basics of learning the numbers through learning and review of basic addition and subtraction facts 0-10. This would be a great App for the older developmentally disabled."
"If we touch the screen with three fingers, we see three on the screen. It's a simple and engaging technique that works well with kids. I'm confused by the poor reviews for an app that carries creative, quality production. I hope to see more from this developer."
The Bad
"Stops at four. I read all the negative reviews and should've paid attention. Now I am out 2 bucks. This app is so disappointing. Stops after 4. Deleted!"
"App crashes after counting to 4. Got this app for my kid after reading rave reviews online. But it crashes all the time. If the developer is reading this, it's only fair I be refunded!"
"Only counts to 5 ! Not very good game,should have been FREE, Save your money."
"I just loaded this on my iPad mini and it simply doesn't work past three digits. First app that I regret buying."
"This does not work. Sometimes it will count up to 5 if I am lucky, but I can never get it to count any further, on my iPad 3."
Why the bad reviews?
On the iPad, by default multitasking gestures are turned on. This means if you put 4 fingers down and move at all, you either close the app, switch to another or the task bar. As this app uses up to 10 fingers, you need to turn off multitasking gestures.
This warning was written as part of the app store description text and on the about screen within the app. This wasn't clear enough, so update 1.03 just released has a popup alert (in 20 languages) at the start and every time you trigger the gesture, to remind you to turn it off. Don't worry this popup is unobtrusive and goes away on its own after a few seconds. Hopefully this will help solve the bad reviews.
Sadly you can't reply directly to those people that have posted their anger in a review instead of emailing Cowly Owl for support. Those people that have emailed with questions have always gone away happy that the app works as expected.
How to get your users to rate your app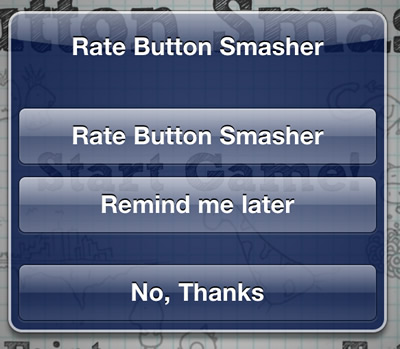 This is the method that most apps use, a popup that asks you to rate the app. This will often come once you've been using the app for a good period of time, or reached a far point in the game, so that you are more likely to write a good review.
Not only are these popups annoying, but in apps aimed at children they are very problematic. When a 4 year old is faced with the above, what do they do? Go and ask for help or press a random button, making them leave the app and go back to the app store. Also, you want the parent/carer/teacher to write a review, not a young child, so why bother them with this popup?
Why are reviews important?
Many people see an app icon, skim the first part of the description, flick through the screenshots and read the reviews from other people before deciding if they should buy the app. If there are bad reviews saying it doesn't work, they are less likely to buy the app.
What can you do?
Cowly Owl is an independent company made up of 1 person, Chris O'Shea.  Not backed by a large company, or funded by investors, the last app needs to be profitable to help pay for creating the next app.  It's not a goldmine, this industry is hard for the small guys (read "Can independent developers make money from children's apps?"), so I need all the help I can get to improve the income generated from these apps.
So if you already own a Cowly Owl app, and would like to see more released, please leave a positive review on the App Store.
If you have any questions or problems, please contact me via the support pages.
Many thanks!