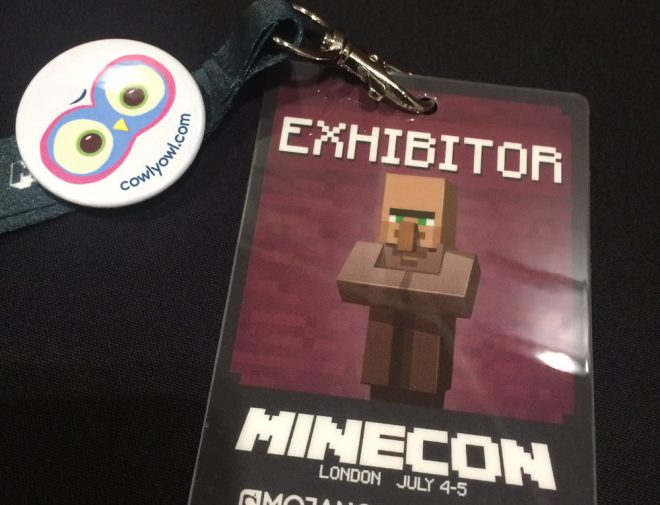 I was lucky enough to be asked to show Monster Mingle in the Indie Zone of Minecon 2015. A big thank you to Mojang, John Polson and Multiplay for having me and making the show great.
I've not shown my apps in public before, so a week before I had cards, t-shirts, badges and a banner made.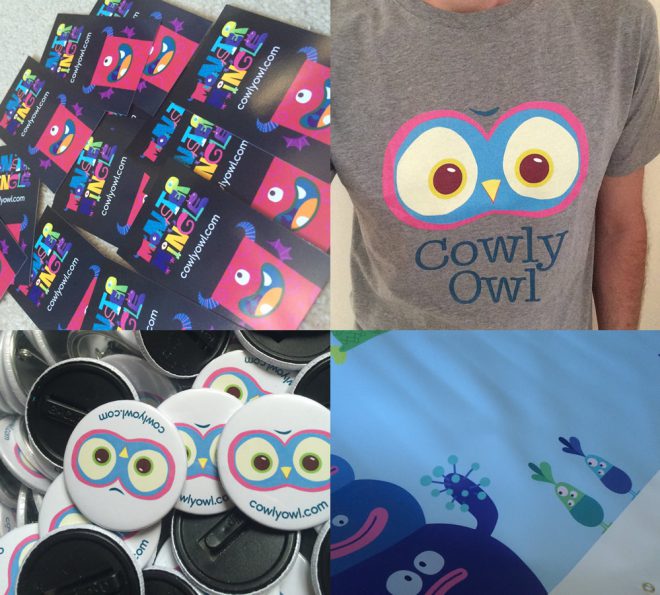 They were providing us with PCs to run our games on. Although it is best experienced on a tablet, I decided to make the game run on PC and use it as a test to see how it feels and plays.
I was very busy in the run up week before launching Fireworks Lab, so I had set aside 1 day to get Monster Mingle, normally a phone and tablet app, to run on a Windows PC. Because I used Unity, the switch is quite easy, but I had a major problem with some code I was using to generate the water physics (the surface waves and buoyancy).  After 8 hours of trying to fix it without success I decided to cut the water physics out, it was better to show the thing working rather than not at all. I'd hidden some of the main menu items, made mouse input work instead of touch and a hand pointer to follow the real hidden mouse pointer.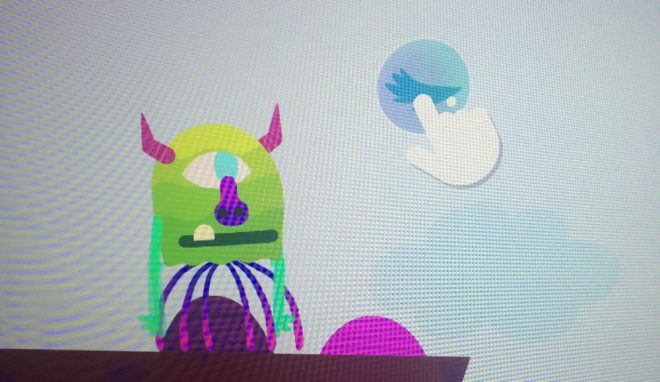 Friday morning I set-up my booth and Minecon opened the next day.  It was great to see the sets being built and all the prep by everyone working really hard. (Amazingly the whole lot was taken down by Monday night)
This is what 10,000 people at the opening ceremony of Minecon 2015 looks like! Breaking the Guinness World Record for the largest convention for a single video game. I think tickets sold in 3 minutes. If you are into Minecraft, you should watch the opening ceremony animation of a story around London, nicely done 🙂 There was lots to see and do at Minecon, coverage on BBC and The Guardian.

(photo borrowed from Stampy)
I was a little worried about showing Monster Mingle, as I typically target 3-7 year olds and knew the audience would be a little older. What if they didn't like it, or got bored?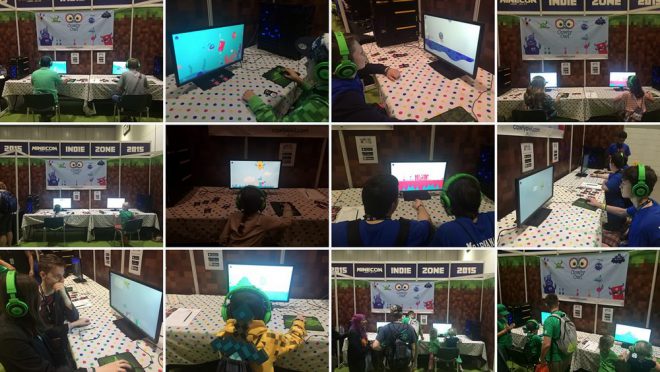 Check out photos from the weekend on Flickr.
It turns out my worries were completely unfounded.  Younger kids loved it, but I had many teenagers playing it for a very long time. Of course some lost interest, but that was the exception rather than the rule. Older children definitely craved the challenge and game mechanics that they are used to.
It felt great to get such good feedback, with the younger children in particular coming back again and again over the weekend to play with it. I enjoyed the in depth conversation with the 4 year old girl about all the things she would like to see in it.
It also gave me a chance to talk to parents, as my target audience is the children, but you are selling to the parents.  Many asked what you had to do in the game, after explaining that it was a creative sandbox for creating your own monster and exploring a world of surprises, there wasn't any comment about goals or high scores.  Many parents said they were happy that it was an app without in app purchases or advertising, and especially that there is no violence.  For many children growing up between 7-12, the games their friends at school play often aren't suitable for them and some parents said its a relief for them to enjoy something without those pressures.  A couple of younger children who had attention disorder type traits, after they sat playing for a long time the parents told me how impressed they were.
One thing that I was super happy about is children of all ages taking their headphones off and asking their parents to listen while they played.  They wanted them to hear all the musical sounds in the world.  For children to appreciate that and want to share this really made my day.
Overall it was a really great experience and helped me formulate some ideas of updates to the app in the future. I need to show my apps in public more 🙂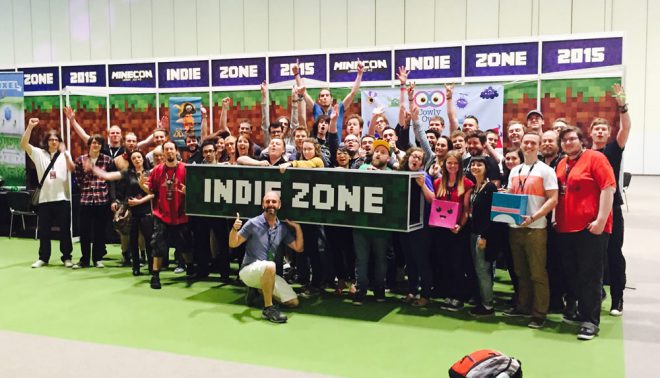 (photo by Lan Bui)