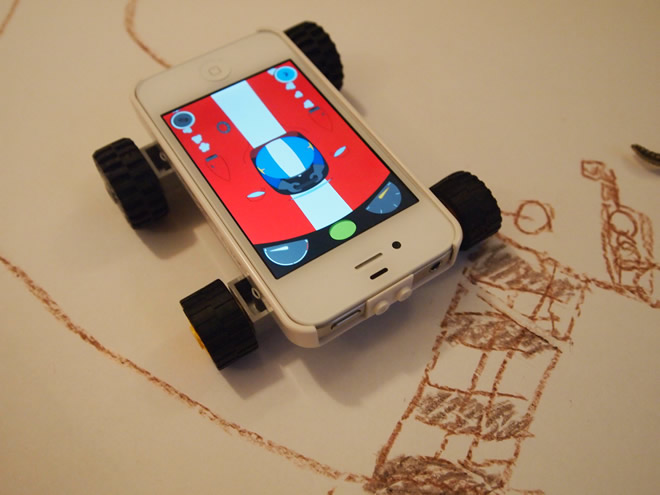 Back in 2012 I had an idea, what if a toy car was a screen with sensors and a speaker? You could change the surface of the car to be any vehicle, with motion activated sounds. Before I had even started Cowly Owl, I created this first app as an experiment on the iPhone.  The idea with Makego was that could you use your phone with a Lego case for physical & digital play.
Because of the novelty around 'appcessories' at the time, the idea received quite a bit of press (that would never normally touch kids apps): The Creators Project, Gizmodo, Cult of Mac, Wired, The Guardian, Engadget, Ubergizmo, GeekDad, babyology, It's Nice That (just a few in a long list).
However the app didn't sell very many copies and has been free for a while. Who would have thought that parents wouldn't want kids driving their new iPhone around the floor 🙂
The app was released in February 2012, the last update was December 2012.  Apple has quite rightly started removing abandoned apps from the App Store. For a long time I considered updating Makego, making it universal on tablet, adding it to the kids category, in the hope of some sales. I realised that nothing I did would make it commercially viable, but as a creative experiment I am happy with the results. So with an email from Apple informing me of its removal from the store soon, I decided to post advance warning for anyone that wants to download it.
Makego will be removed from the App Store on Monday 9th January at 5pm GMT.